Harvester-Navi Project is an Innovation Project funded by the German Federal Ministry for Economic Affairs and Energy. Its purpose is to develop a navigation and safety system for forest harvesters based on non-georeferenced positioning networks.
Under the dense canopy of foliage, Global Navigation Satellite System (GNSS) based navigation technology cannot be relied on to as a reference for position-based operational tasks.
The objective of Harvester-Navi is the development of a navigation assistance device as an add-on solution for the harvester to increase work productivity and at the same time relieve the harvester driver. Thus, the safety zone around the harvester is defined and ensured, the workers' position with respect to the harvester are known. This will facilitate the management of the operational areas and improve the safety of the workers in the forests.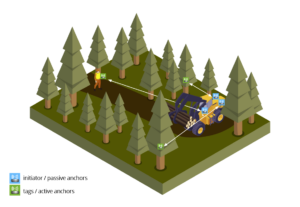 Metirionic demonstrator
In this demonstrator, Metirionic is providing the technology for real-time positioning (MARS). MARS (Metirionic Advanced Ranging Stack) offers significant advantages against GPS and ToF-based ranging techniques. It is based in the frequency domain which brings advantages in extremely short calculation times and the effective suppression of reflections. Moreover, additional disturbances to the measurement points caused by trees, canopy, or snow, only influence amplitudes but not the phase shifts of the individual sinusoidal signals, which are considered for the distance measurement in MARS. This way, MARS reliably detects distances in complex environments.
 Metirionic demonstrator is a customized HW bundle based on the  AT86RF215 platform from Microchip with IP based backbone network. Networking is done with WiFi using the TCP/IP based MQTT infrastructure to transfer data. The system is handled by a nanoPi Neo2, a basic arm computer and 2.4 GHz antennas are used. Microchip AT86RF215 platform is essential to meet the goal and provide ranging information among anchors and tags in one ping-pong timeslot.
The demonstrator has been deployed in a forest located in Walda (Großenhain), a town situated in Saxony, Germany. It is based on at least 3 anchors on the harvester and 4 tags distributed at the helmet of the forest workers and the trees for the WSN localization system in a defined workspace. With all possible ranging and angle information and reference positions, the position of all anchors and tags can be estimated.  Therefore, the positions of each player in harvester operations are acquired with accuracy, as well as the relative positions of all workers to the harvester.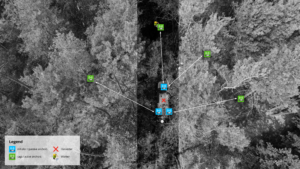 Harvester Navi represents an innovative navigation system for the Harvester sector that improves forest management and occupational safety of forestry workers.  It helps developing an edge cloud system, which ensures pre-processing and evaluation of sensor data by means of radio sensor networks for positioning and communication. All information relevant to felling operations is compiled and made available to the machine operator in a simple and easy-to-use application.
Harvester Project is supported and funded by the German Federal Ministry for Economic Affairs and Energy.
More information at: