Metirionic Advanced Ranging Stack: 10 years localization intelligence
Metirionic engineering services and technology expertise acquired for the last 10 years enable wireless positioning measurements that are fast, reliable and covering the maximum range.   
The exact location of a sensor is useful in any industrial applications, not only for monitoring machinery in a factory or tracking the movement of goods in a supply chain, but also to identify any potential problems with its placement, or to analyze the data it is collecting in the context of its environment.   
Metirionic Advanced Ranging Stack MARS enables accurate wireless ranging information for any chipset, sensor, or system. The uniqueness of this patented technology allows improved accuracy and ensures total reliability in critical applications like "Find and Rescue" and "Industrial Safety" applications. 
High robustness because of frequency hopping and low interferences.

 

High indoor range even through walls and other obstacles.

 

Outdoor installations without restrictions.

 

Measurement of distances (ranging) AND angles.

 

High reliability to meet safety and regulatory standards.

 
Now, for the first time, the upgraded
MARS 2.0
 adds 3D positioning information to Bluetooth® / BLE.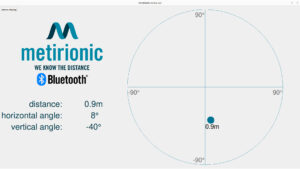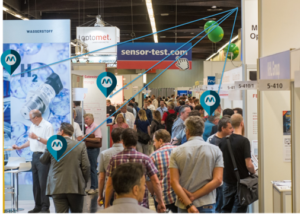 Bluetooth is one of the most widely used wireless technology standards globally, especially for short-distance data transmission and, that will be being heavily impacted by industrial digitalization trends (IIoT) in the coming years. Bluetooth devices forecast to reach 7 billion units in 2026, with a projected compound annual growth rate (CAGR) of nine percent from 2022 to 2026.  
ASSET TRACKING IN 3D WITH THE HIGHEST QUALITY BASED ON BLUETOOTH® / BLE 
Sensor and Test is the leading international trade fair for sensor, measuring and testing technology and will be held at the exhibition center in Nuremberg from May 9 – 11, 2023. During the exhibition, Metirionic will show an Indoor asset tracking Proof Of Concept based on MARS 2.0 (combined distance and angle measurement with BLE). 
Visit our booth 1-150 and test "Find my smartphone" application 
Indoor 3D asset tracking within the Nuremberg Messe! 
Check the accuracy and range yourself  
If you need a ticket for the event, click here to get your voucher code or contact our Head of Sales, Rainer Ihra to assist you. Get further info at Metirionic Exhibitor Space. 
We are looking forward to interesting discussions with you! Book an appointment with our team during Sensor and Test.    
ABOUT METIRIONIC
Metirionic GmbH was founded in 2013 and specializes in the development of new and innovative technologies for distance and angle measurement with radio circuits. With over 30 billion networked devices and nearly 1000 trillion sensors installed, the question of where a measurement was taken becomes as important as what was measured.  Metirionic is a leading global provider of technologies for the acquisition of position and measurement data of any objects and the data communication between the objects in the field of industrial safety and find and rescue applications. Metirionic enables MARS (Metirionic Advanced Ranging Stack) through a license-based model and get it customized to the End Application with Engineering Services.