The exact location of a sensor is useful in any industrial applications, not only for monitoring machinery in a factory or tracking the movement of goods in a supply chain, but also to identify any potential problems with its placement, or to analyze the data it is collecting in the context of its environment.   
Metirionic Advanced Ranging Stack MARS enables accurate wireless ranging information for any chipset, sensor, or system in IEEE and Bluetooth® / BLE. Precisely, Bluetooth is one of the most widely used wireless technology standards globally that will be heavily impacted by the rapid increase of the industrial digitalization (IIoT) adoption in the coming years. 
That is why Metirionic is having presence in the main trades related to Smart Electronics and Industrial IoT ecosystem. MARS has demonstrated how to deliver outstanding reliable performance in providing ranging and positioning information even in the most complex environments.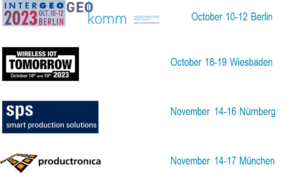 INTERGEO

is the world's leading expo and conference platform for geoinformation, geodata and future-oriented applications.

 

Wireless IoT Tomorrow

is the Europe's unique trade show that is 100% focusing on wireless IoT. It brings together a full ecosystem around wireless IoT, a full agenda of interesting conferences with business and technology experts and thousands of exhibitors to facilitate exchanging latest developments of wireless IoT projects, products and solutions.

 

The SPS

is the industry highlight of the automation sector and, with its unique concept, represents the complete spectrum of smart and digital automation – from simple sensors to intelligent solutions.

 

Productronica

is World's Leading Trade Fair for Electronics Development and Production. It showcases the entire value chain in electronics production, from technologies and components to software and services.

 
For further information: 
About Metirionic 
Metirionic GmbH was founded in 2013 and specializes in the development of new and innovative technologies for distance and angle measurement with radio circuits. With over 30 billion networked devices and nearly 1000 trillion sensors installed, the question of where a measurement was taken becomes as important as what was measured.  
Metirionic is a leading global provider of technologies for the acquisition of position and measurement data of any objects and the data communication between the objects in the field of industrial safety and find and rescue applications. Metirionic enables MARS (Metirionic Advanced Ranging Stack) through a license-based model and get it customized to the End Application with Engineering Services.