Visit us from October 10 – 12, 2023 at Intergeo Expo & Conference, the world's leading geospatial platform in Berlin. You will find us at booth 38 in hall 25. 
INTERGEO is the world's leading expo and conference platform for geoinformation, geodata and future-oriented applications. This year INTERGEO is held as a hybrid event: live at the exhibition grounds in Berlin and digitally on the platform.  The conference programs and exhibitors focus on the future of geoinformation, geodesy and land management.  
As the importance of geoinformation has increased significantly in recent years, especially in the fields of urban planning, disaster preparedness, environmental protection, geoinformation is of crucial importance and will continue to grow in the future. The market demands autonomous and intelligent systems that are able to enable reliable geospatial data to safely and reliably carry out critical tasks. 
Metirionic plays an important role in enabling these systems. Metirionic Advanced Ranging Stack (MARS) and expertise acquired for the last 10 years enable wireless positioning measurements that are fast, reliable and covering the maximum range.   
Metirionic technology is present in industrial safety applications like remote control, geofencing and, navigation in GPS-denied areas. During Intergeo 2023, we will present our latest demo for GPS-denied areas system:  
Groundbreaking demonstrator MARS 2.0 (Metirionic Advanced Ranging Stack)

that enables positioning in GPS-denied environments to optimize the harvesting operations in the German forest.  MARS technology enables a navigation system in denied-GPS areas in the woods. The integration of MARS in the helmet operators enables real time position information with the aim of:

 
Ensure safety: the geofencing keep workers out of danger zone while harvesting

 

Task optimization: harvesting operations in accurate areas and easier in the forests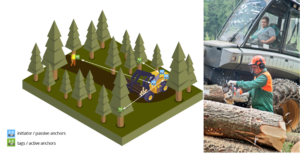 MARS (Metirionic Advanced Ranging Stack) is supported by a pool of superior patented algorithms based on Channel Sounding Approach that enable reliable wireless information for critical applications. MARS is used in critical geolocation applications like smart harvesting, industrial safety and Search and Rescue.  
We are looking forward to interesting discussions with you!