Visit us from March 14 – 16, 2023 at embedded world exhibition & conference, the world's leading trade fair on embedded systems, in Nuremberg. You will find us at booth 323a in hall 3A.  
This year Embedded World focus relies on three main topics: Embedded, Responsible and Sustainable. It is clear that Embedded is on its way to becoming mainstream technology. Embedded systems are increasing presence in critical applications such as mobility, industrial automation or medical technology, etc. Therefore, safety and sustainability become major topics when developing new embedded solutions.   
The market demands autonomous and intelligent systems that safely and reliably carry out critical tasks. And here is precisely where Metirionic can add value to new solutions.  Our ranging technology and expertise acquired for the last 10 years enable wireless positioning measurements that are fast, reliable and covering the maximum range.  
Therefore, Industrial Safety applications (virtual fencing, asset tracking in critical infrastructure) and Find and Rescue applications (avalanche and buried rescue, firefighter support) are the main target markets of our technology MARS (Metirionic Advanced Ranging Stack).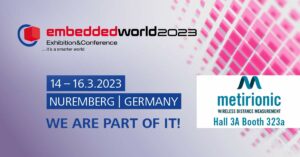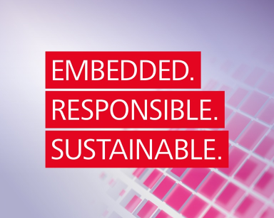 During Embedded World 2023, we will present our latest advancements: 
Upgraded

MARS 2.0

(Metirionic Advanced Ranging Stack).

 

Presentation of a groundbreaking demonstrator to test the functionality of

combined distance and angle measurement with BLE

(Bluetooth Low Energy).

 

Showcase of industrial devices from the "Search and Rescue" and "Safety Industry" sectors that use MARS to ensure reliable range and position information.

 
We are looking forward to interesting discussions with you!
Read more about Metirionic at The Road to embedded world '23: Dresden, Germany, Metirionic.  
Do you need a ticket for the event?

Contact our Head of Sales,

Rainer Ihra

to receive your voucher.