Soon, Metirionic from Dresden Saxony will be on the road to Embedded world.
This year we have been working on upgrading MARS 2.0 (Metirionic Advanced Ranging Stack).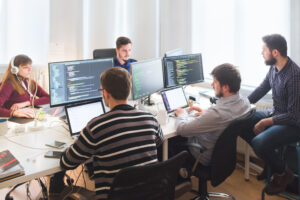 We will be presenting some of the major improvements during Embedded World 2023 in Nuremberg next month. The visitors can see our breakthrough demonstrator setup and test the functionality of combined distance and angle measurement with BLE (Bluetooth Low Energy) as well as some industrial devices from the "Search and Rescue" sector that use MARS to ensure reliable ranging information. We will be showcasing this at the booth 323A in Hall 3A. 
Given the exploding stage of connected devices that brings IoT growth. Which impacts strongly across many different industrial verticals (production lines, automotive, electronics, etc.), ranging information is becoming relevant for every IIoT deployment. 
Metirionic provides wireless assessments for any ranging application. For 10 years, we helped our customers via enabling wireless distance measurement in several industrial sectors (Metirionic Services Portfolio).
Asset tracking and facility management 

 

Outdoor "search and rescue" applications

 

Virtual fencing and collision avoidance mechanisms in manufacturing environments

 

Industrial RTLS Underground: Safe navigation in long tunnels or mining sites where GPS is not available

 

Position finding, rescue tools for mobile finding applications

 

RTLS for outdoor areas: Helping livestock management, tracking and locating animals

 

Etc, …

 
One of Metirionic's focused frequency bands is at 2.4 GHz, where major industrial wireless communication takes place and found its standardization for example, in Zigbee, WirelessHART, IP500, I/O-Link wireless and now in Bluetooth and BLE.
We are happy to facilitate tickets for Embedded World 2023. Please get in touch with our Sales team: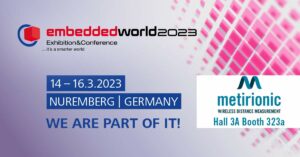 Breakthrough Demonstrator: During the Embedded World 2023 we will set up an "Evaluation Platform" that enables a combined distance and angle measurement with BLE. Visitors could test the demo and determine the relative position of wireless nodes via measurement of both – angle and distance. 
Current Bluetooth standard ranging solutions are only based on measuring the received signal strength indicator (RSSI), a very simple method that provides distance measurement and can be heavily affected by interferences of the environment. With our technology, MARS (Metirionic Advanced Ranging Stack), based on our patented signal processing algorithms and the new features, we can determine distances and angles with improved accuracy and ensuring reliability on Bluetooth and IEEE802.15.4 devices.